Priyanka Chopra, an actress who has worked hard enough to walk her dream to reality is not just a successful actress, producer, and Singer, but has also been named in the list of the 100 most influential women in the world by renowned magazines like Times, Ford, etc.
Chopra hails from a middle-class family in Jamshedpur, Bihar (now in Jharkhand). Her journey from being a brown girl who was bullied at school to being an international film star with millions of fans and a role model of feminism is incredible and inspiring to not just women but any person who believes in dreaming big.
Personal Details:
Full Name:

Priyanka Chopra

Stage Name:

Priyanka Chopra

Gender:

Female

Birthday:

18 July 1982

Place Of Origin:

Jamshedpur, Jharkhand

Age:

39 years

Height:

1.69 meters

Weight:

55 kgs

Nationality:

Indian

Sexual orientation: 

Straight

Profession:

Actor

 Model

Producer

Author

Total Net Worth:

Rs. 734 crores
Early life:
Priyanka Chopra was born on 18 July 1982 in Jamshedpur which was earlier in Bihar but is now a part of Jharkhand. Her parents, Madhu Chopra and Ashok Chopra are doctors by profession. Her father was from a Punjabi family while her mother was from a Bihari family. She was brought up along with her brother, Siddharth Chopra in several cities of India like Delhi, Chandigarh, Bareilly, Ambala, Laddakh, Lucknow, etc, since her parents were doctors in the army and were posted across different cities of the country.
Chopra's grandmother, Mary John was a Jacobite Syrian Christian. Her mother belonged to a family with a strong political background. Her mother Madhu Chopra's father Dr. Manohar Kishan Akhouri and her mother Jyotsna Akhouri, have been popular politicians in the Congress party. 
Priyanka Chopra completed her schooling at the La Martiniere Girls' School in Lucknow and St. Maria Goretti College in Bareilly. After completing her schooling, she went to St. Maria Goretti College in Bareilly. Priyanka was 13, when her parents sent her to the US, to live with her aunt and pursue her further education. Her school was in Newton, Massachusetts. 
In school, Priyanka was teased and bullied by an African American girl. She would tease her for her race and for being Indian. Priyanka talked about having a hard time in the US. She joined the theatre in the USA and also participated in choral singing. After returning from the USA, she went to the  Army Public School in Bareilly. 
Personal Life: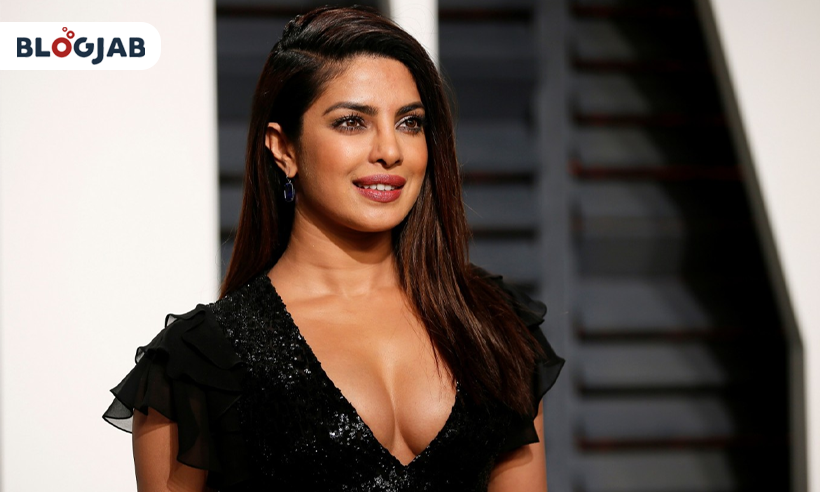 Priyanka Chopra is a Hindu by faith and performs a pooja every morning for the wellbeing of her family and loved ones. She was merely 18 when she was selected for the Miss India pageant and later excelled to be Miss World in 2000. After she won the crown, she was showered with movie offers but Chopra wanted to make a smart choice. Her mother was an established gynecologist but left her job to take care of Priyanka and her dreams. 
Chopra is very close to her family and for all the time she spends in India, she spends it with her family, living in the same house. Apart from a younger brother, Priyanka also has three cousin sisters named Parineeti Chopra, Mannara, and Meera. Priyanka's father passed away a few years ago. The actress was really close to him and has a tattoo on her wrist in his handwriting that read "Daddy's Lil girl".
Talking about her relationships, Priyanka dated actor Shahid Kapoor for a while after which they separated. After which she maintained very low-key romantic relationships until 2018 when rumors were afloat of the actress dating Nick Jonas. A year later, Nick proposed to Priyanka for marriage on her birthday in Greece and they are a happily married couple now.
Career:
In 2000, Priyanka Chopra won the title of Miss World. Bollywood showered her with movie offers and the actress chose Humraaz, helmed by Abbas Mustan to be her debut movie. The movie was to be released in 2002 but for some reason, it fell flat and could never be released. Chopra then chose to debut with Thimzan, which was a Tamil movie. Finally, in 2003, she made her Bollywood debut with the movie "The Hero: Love Story of a Spy" that also starred Sunny Deol and Preity Zinta.
She later went on to do movies like Krrish, Mary Kom, Barfi, Saat Khoon Maaf, etc. Movies like Barfi and Saath Khoon Maaf won her accolades from critics and viewers across the country. Her portrayal of Kashibai in Bajirao Mastani has been unmatchable. Priyanka has also done some big Hollywood projects like Baywatch, A kid like Jake, etc. 
Chopra owns a production house under which she has produced movies like, "The sky is Pink" and several regional movies.  Several other movies like Dil Dhadakne do and the White Tiger have added to her filmography.
Appearance:
Priyanka Chopra is 39 years old. She is 1.69 meters tall and weighs 55 kgs. She has a wheatish complexion and black hair. Her eyes are also black in color. The actress suffers from asthma and takes regular medication for it. 
Priyanka Chopra's Net worth:
Priyanka Chopra is an extremely successful actress and it wouldn't be an overstatement to say that she is the most successful actress in Bollywood with the highest net worth. With her production house, producing great movies, and her successful ventures, Priyanka Chopra's net worth is 734 crores.
EndNote:
Priyanka Chopra, an International star and a warrior at heart has had several ups and downs in her life. But the one thing she had held on to, throughout the tough times, was her confidence and determination to never give up. The actress was back to work, a week after her father's death. 
From trolling to failure, she's tasted all of the world's most bitter poisons and has yet recovered and survived like a Queen. She did not let bullying and racism turn her evil but instead accepted herself and decided for the world to know, what a pleasure it is to live in the same world like hers.
DISCLAIMER : This and other personal blog posts are not reviewed, monitored or endorsed by Blogjab. The content is solely the view of the author and Blogjab is not responsible for the authenticity of content of this post in any way. Our curated content which is handpicked by our editorial team may be viewed here.