From playing our sweet weirdo moon pie, Sheldon in Big Bang Theory to landing on the cover of popular fashion magazine L'officiel, Jim Parsons' fandom outshines most other actors in the television industry. His portrayal of Sheldon Lee Cooper not only made him a well-known star but made the character a 'classic'. 
Jim is not just an actor but also a producer. He has acted in several popular shows, at the same time, he has been involved with some ventures as their producer. In the prequel of Big Bang Theory, "Young Sheldon, Jim Parsons not only produced the show but was also highly involved with its writing and direction.
Born and brought up in Houston, Texas, the U.S. by Milton Joseph "Mickey/Jack" Parsons, Jr. and teacher Judy Ann, Jim also has a sister named Julie Ann Parsons. If the Forbes report of 2018 has to be believed, Jim Parsons is the highest-paid television actor in the world.
Personal Details about Jim Parsons:
| | |
| --- | --- |
| Full Name: | James Joseph Parsons |
| Stage Name: | Jim Parsons |
| Gender: | Male |
| Birthday: | March 24, 1973 |
| Place Of Origin: | Houston, Texas, U.S. |
| Age: | 49 |
| Height: | 1.86 m |
| Weight: | 66 kgs |
| Nationality: | American |
| Sexual orientation:  | Homosexual |
| Status: | Married |
| Spouse: | Todd Spiewak (m. 2017) |
| Children: | None |
| Profession: | Actor, producer |
| Total Net Worth: | $160 million  |
Early Life:
James Joseph Parsons was born on March 24, 1973, in Houston, Texas, the U.S. to Judy Ann and Milton Joseph "Mickey/Jack" Parsons, Jr., at the St. Joseph Hospital. Jim was raised in the northern suburbs, Springs of Texas, along with his sister Julie Ann, who is also a teacher by profession, just like his mother. 
In an interview, Parsons revealed that in school, he was a part of a play called "The Elephant's Child". He was merely six years old and had played the role of the Kola-Kola bird. He enjoyed the process so much that he decided to become an actor, then and there. 
A young Parsons was sent to Klein Oak High School in Spring. At school, he was a part of a play called Noises Off. In the play, he learned the intricate details of acting and understood the meaning of "committing to the stage". He grew up watching television sitcoms like Three's Company, Family Ties, and The Cosby Show.
To pursue a degree in BA in theatre, he attended the University of Houston. Parsons was one of the most celebrated actors at the theatre and even became the founding member of Infernal Bridegroom Productions. Later, to pursue a degree in MFA, he went to the University of San Diego in 1999.
Personal Life: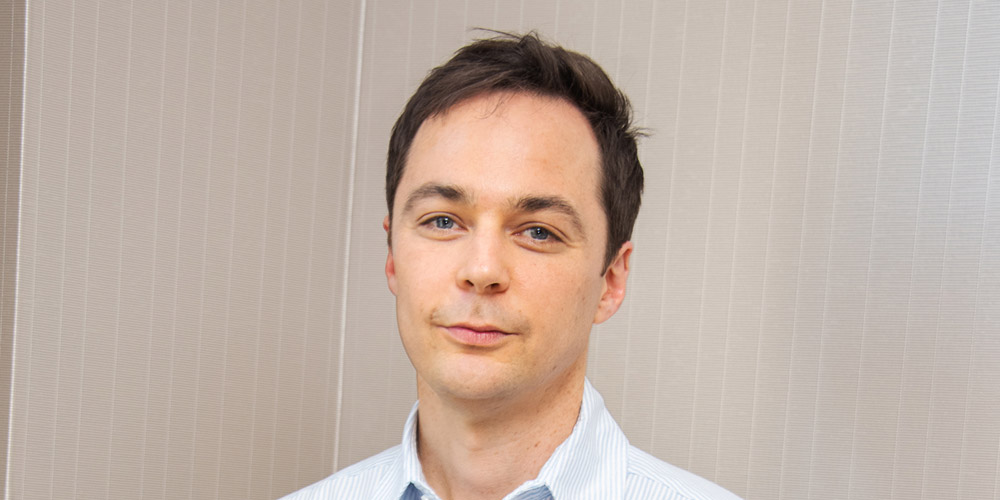 Parsons likes to live a life away from any kind of scandal or controversy. However, life has thrown some difficult situations at him. In 2001, Jim Parsons lost his father to a car accident. He was shaken by the incident and struggled to recover from the trauma for a long time.
Talking about Jim's residence, he lives in New York City and owns a house there. Jim also owns a house in Los Angeles and keeps traveling to the city for professional commitments.
In 2012, The New York Times released an article on Jim Parsons. The article made a point on Jim Parsons's sexuality and confirmed him as gay. In 2013, Jim came out in an interview and talked about his love life. He accepted that he has been dating director Todd Spiewak. 
Talking about his love life and the romantic space he shares with his partner, Jim said that his day and life around his partner is an act of love. It starts with a coffee in the morning, going to work, washing the clothes, and taking their dogs out. For him, doing the regular chores together counts as love. 
Career:
Jim Parsons rose to the peak of his career and fame with The Big Bang theory. The show featured him playing the super genius antisocial, Sheldon Lee Cooper. Despite the show revolving around a group of friends and equally focussed on each character, not making any of them secondary, Sheldon was the most loved character of the show.
The Big Bang theory concluded in 2019, and fans of the show were left heartbroken to bid farewell to the stars. The heart-touching speech given by Sheldon at the end of the show made him one of the most loved characters in the history of television.
Jim Parsons has also been a part of several other shows and films like Gardener of Eden, The Big Year, The Muppets, Sunset Stories, Wish I Was Here, Home, Visions, Hidden Figures, A Kid Like Jake, Extremely Wicked, etc.
Net Worth:
With his portrayal of Sheldon Lee Cooper in the Big Bang Theory, Jim Parsons became the highest-paid actor on television. He is also a producer and has invested in several successful ventures like "Young Sheldon". With all the ventures he's been associated with, Jim Parsons's net worth is $160 million.
Endnote:
James Joseph Parsons is a famous actor and producer who has been a part of sitcoms like The Big Bang Theory. Jim was born on March 24, 1973, in Houston, Texas, U.S. His mother Judy Ann, while there is not much information available about his father Milton Joseph "Mickey/Jack" Parsons, Jr.
After completing his secondary education, Jim attended the University of Houston to pursue BA. Later he went to the University of San Diego to pursue MFA. Jim has been in the industry since 1993. He identifies as gay. The New York Times in one of their articles, threw some light on Jim Parsons coming out as a gay man. 
For almost 10 years now, Jim has been with his partner and the love of his life Todd Spiewak. The two got married in 2017 and have a little world of their own with their pets and plants. His husband Todd Spiewak is an art director and is a very well-known name in the industry.
DISCLAIMER : This and other personal blog posts are not reviewed, monitored or endorsed by Blogjab. The content is solely the view of the author and Blogjab is not responsible for the authenticity of content of this post in any way. Our curated content which is handpicked by our editorial team may be viewed here.