Many people associate regular visits to the fitness center not only with sports to balance everyday life but also with a joint workout with like-minded people in a pleasant and cultivated ambiance.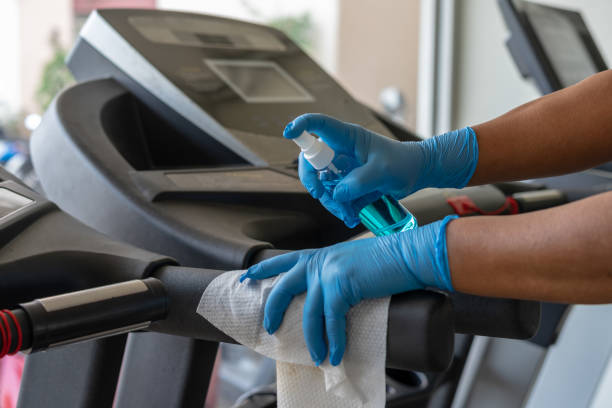 As the operator of a fitness studio, you certainly know that cleaning the outside of fitness equipment and mats is not the only thing that matters.
Due to the intensive use of all equipment and premises by a large number of customers every day, the hygiene factor also plays a decisive role.
Today we will use practical hygiene tips to show you how to optimize the cleaning process in your fitness studio, including a suitable cleaning plan, and what is important in detail.
Tip 1: Beware of tunnel vision!
In a training center, there are a large number of tasks involved in maintenance cleaning. In order not to lose the overview too quickly, you should rely on a special cleaning plan for your fitness studio.
Record all the necessary measures that you would like to carry out, for example, daily, several times a week, once a week, or as needed. This plan will help you and your employees not to miss any tasks and also to take into account all relevant hygiene factors
Tip 2: Rely on quality health standards
Leave nothing to chance when it comes to cleaning your fitness center and relying on the standardized operation and personal customer care serves as an important basis for fitness studios. For example, it regulates basic requirements for day-to-day operations, including important measures relating to hygiene standards.
You have the option of an examination and a certificate with which you can show your customers that your studio also meets the highest quality requirements in terms of hygiene.
Tip 3: Avoid hygiene traps!
Do you think most of the germs and bacteria are on the toilet seats? A whole range of pathogens can certainly be found there, at least if the fitness center is not cleaned properly.
However, the concentration of germs is many times higher in places where your guests regularly grab them with their hands. This includes not only the training equipment but also door handles, wash fittings, handles on clothes lockers, and the like.
Be sure to include tasks in your cleaning schedule that take into account the daily disinfection of these germ-laden surfaces.
Tip 4: Don't be afraid of sweat!
Many guests find traces of sweat on equipment from the previous guest disgusting. For you as the owner, however, it is good to know that conventional cleaning and disinfection is completely sufficient here.
Contrary to what one might initially expect, sweat does not contain an excessive number of germs or pathogens.
Encourage your customers to bring their own towels to work out. This can be placed underneath in suitable places or used to wipe away sweat during the workout. So sweat has almost no chance.
Tip 5: Don't give the athlete's foot any breeding ground!
Despite thorough floor cleaning, there is a risk of pathogens such as athlete's foot forming, especially in damp areas such as showers or changing rooms.
Ask your guests not to go barefoot anywhere and to change to shoes they brought with them, such as flip-flops or bathing shoes for the changing room and wet rooms.
Make sure that there are appropriate displays and information signs here to protect your own health and that of all other guests.
Tip 6: Sensitize your employees!
Make your team aware of important hygiene precautions.
This includes, among other things, that open wounds or injuries to employees and customers must be properly covered immediately in order to avoid contact with the sports equipment or mats.
On the one hand, it is about protecting the wound from contamination, but on the other hand, it is also about protecting other guests from possible pathogens.
Tip 7: Include guests in your gym cleaning process.
Many studio visitors are already familiar with what initially sounds like a bad joke. Most of the equipment has a hygiene product and cleaning cloths that guests can use to clean before and after using the fitness mats or fitness equipment.
As a studio operator, you kill two birds with one stone. Not only do your customers take responsibility for some of the important hygiene precautions. They also know that the fitness equipment they use is guaranteed to be in perfect hygienic condition.
Tip 8: Hire a professional cleaner for your gym.
In the end, even a sophisticated cleaning process requires one thing above all: consistent implementation.
This often fails because there is simply not enough time to take care of the hygiene requirements. Perfect care of the premises including sanitary facilities. In addition to customer service, device maintenance, sales, or marketing campaigns.
Get regular help from a reliable and experienced cleaner. If you do not want to employ them permanently in your company, you can contact a cleaning company. That ideally already has references in the fitness studio sector.
Here the right team is put together for your studio, which will support you with room maintenance in the future.
Tip 9: Compare the prices!
Don't go straight to the first cleaning company that comes along. It is better to take your time and compare the prices for cleaning the fitness center, for example in the Melbourne area. A price-performance ratio that is suitable for you is decisive.
You can also have a list of services for the professional cleaning job. Created as part of a non-binding offer. This allows you to see at a glance which tasks are being taken on and at what cost.
Tip 10: Trust is good, regular updates are better.
Are you satisfied with the implementation of all cleaning tasks in your studio and assume that everything is hygienically clean?
Great, but don't settle into a routine, nothing is as constant as change. Check regularly whether all areas and also newly purchased fitness equipment. Check if fitness mats are included in the existing cleaning routine.
Would you like to implement an optimal cleaning process in your fitness studio? With our hygiene tips, this challenge will be even easier for you in the future.
Let a suitable caretaker service help you with the regular cleaning of the gym in Melbourne. Your customers will appreciate a feel-good ambiance that offers hygienically perfect cleanliness at all times.
DISCLAIMER : This and other personal blog posts are not reviewed, monitored or endorsed by Blogjab. The content is solely the view of the author and Blogjab is not responsible for the authenticity of content of this post in any way. Our curated content which is handpicked by our editorial team may be viewed here.