As per the data collected by the American Cancer Society, "U.S. dermatologists diagnose 5.4 million squamous and basal cell skin cancers every year." In addition, basal cell carcinomas are more common than squamous cell cancers.
Dermatologists use different techniques and procedures to remove harmful basal cell cancers. They include surgical excision, Mohs surgery, curettage and cautery, radiotherapy, and many other procedures. However, curettage and cautery are among the most efficient treatments for small basal cell cancers.
During this procedure, surgeons use a dermal curette to remove the surface of the skin cancer. This article will go over the role of this surgical instrument during curettage surgery. So, let's first understand this process in detail.
What Is the Curettage Procedure?
Curettage and cautery are medical procedures used to treat low-risk pre-cancerous lesions and skin tumor cells. The operation results in high cure rates and quick recovery, just like surgical excision. Under general anesthesia, surgeons apply this technique using a sharp blade called a curette.
They also apply low-level heat to stop the bleeding and destroy any remaining cancerous cells. It is an effective treatment as it removes skin lesions with minimal scarring. Surgeons also use this procedure to treat skin tags, pyogenic granuloma, solar keratosis, etc.
Next, let's discuss an essential tool used during this procedure.
Role Of A Dermal Curette in Curettage Procedure
A skin curette scrapes off skin lesions and basal cell carcinomas. It ensures the effective removal of the skin cell due to its sharp tips. The best thing about using this tool is that it causes minimal injury to the underlying tissues while removing the cancerous cells. In this way, it helps in the treatment of superficial malignant tumors.
The versatile orthopedic tool features a sharp cutting edge and a long handle to provide an easy grip. Therefore, it is beneficial not only for dermatological therapy but also for orthopedic and therapeutic operations.
How Do Surgeons Use It During Curettage?
The first step in the curettage procedure is giving anesthesia to the patient. However, it is possible to start the process without using anesthesia in the case of small lesions. The most common technique for curettage is the "fountain pen technique."
For this, a surgeon stretches the skin with one hand's fingers while holding the curette in the other hand between the thumb, index, and middle finger. It helps the surgeon remove the basal cell carcinomas in the one-targeted incision.
There is another technique for using a dermal curette while treating skin lesions. It is the "potato-peeler technique," in which the surgeon holds the curette handle in the proximal anterior fold of the index finger. In contrast, the curetting hand's fingers and thumb provide a stable base. It is a preferred technique when treating hard skin cells.
Depending on the procedure, surgeons use a variety of curettes. So, let's dig a little deeper to learn about its various types.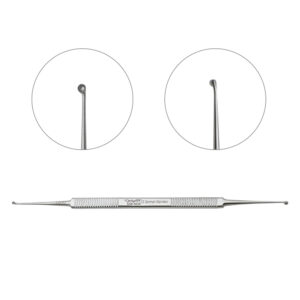 Different Skin Curettes and their Functions
They come in different types to assist surgeons in selecting the right tool. The different curettes and their functions are as follows.
The tool is most commonly used during middle ear surgeries. It removes or scrapes off the bone due to excessive growth in the ear. The double-ended tips with different cup sizes aid in performing the orthopedic procedure with the appropriate tool.
It has multiple variations to complete the surgical tool kit with versatile instruments. In addition, it is lightweight and reusable.
It is an ideal tool for multiple dermatological procedures to remove excess skin surface, cancer, or warts. The versatile tool features a ring-shaped cutting edge for precisely cutting skin tissues. Moreover, its flat, long handle provides a convenient grip over the instrument and reduces the chances of slippage.
Such skin curettes also come in different variations to give surgeons more options for selection. Also, they all have high tensile strength and require little maintenance when used correctly.
Schamberg Comedone Extractor
Surgeons use it to remove blemishes without hurting the nearby skin or tissues. The other names for the tool are blackhead remover, whitehead extractor, and acne remover. It features a small loop at the end and serrated handles for an efficient grip.
The total length of the tool is 3 ¾ inches, and it comes in different patterns. Plus, it is easily sterilizable and reusable.
Curette Excavator Double Ended
It is the type of curette that scrapes and removes the different foreign tissues from the cavities. Its double-ended design and availability of multiple variations make it more versatile.
The tool's overall length is 5 1/2 inches, and both ends are functional, making it ideal for various dermatological procedures. Additionally, it is lightweight and sterilizable, so surgeons can use it multiple times.
Rely Only on High-Quality Curettes!
A dermal curette is essential for various procedures such as dermatological, orthopedic, curettage, and plastic surgeries, making it the perfect tool for a surgical tool kit. As a result, surgeons, like other surgical tools, demand high-quality curettes for successful surgical procedures. 
If you are a surgeon and looking for a reliable source to get such tools, you may consider GerMedUSA. They have been supplying and manufacturing innovative tools for the last three decades.
Most of their tools are made of German stainless steel, making them resilient and durable. They are also available in multiple variations, making it simple to choose the right tool. On top of that, you can also customize your surgical instruments to get the specifications that you think can improve your practice.
DISCLAIMER : This and other personal blog posts are not reviewed, monitored or endorsed by Blogjab. The content is solely the view of the author and Blogjab is not responsible for the authenticity of content of this post in any way. Our curated content which is handpicked by our editorial team may be viewed here.