Neeraj Chopra, a name India has been looking up to with faith and hopes, is a 23-year-old athlete from Panipat. He is a javelin thrower who has represented India in several international sports festivals like the Olympics, the commonwealth, the Asian games, etc.  
Neeraj Chopra's early life:
Neeraj Chopra was born on 24 December 1997 in Panipat Haryana to a middle-class family. His parents reside in the Khandra village of Panipat. Neeraj spent a major part of his young age in Chandigarh since he was sent to DAV College, Chandigarh to complete his education. After completing his schooling, he joined the Indian army. 
In 2016, Neeraj was appointed as the Junior Commissioned Officer in the Indian army and was given the rank of Naib Subedar. He is one of the most loved athletes of India and during the Corona Pandemic, he came forward to donate a handsome amount of Rs. 2 Lakh to PM Cares Fund on 31 March 2020. 
Life Values:
Neeraj has been an extremely rooted man, which is one of his qualities as a sportsman, that makes him a role model for various youngsters, striving to achieve their dreams. In an interview given to a leading daily, he asserted that as a teenager, he never thought he could ever represent his country on an international platform, being a part of the Olympics was not even in his farthest dreams.
The athlete also talked about how his parents worked extremely hard to get him where he is. He shared that since his parents have spent the maximum part of their lives in their village, Khandra, they do not have much idea about the commonwealth games or any of the other tournaments and how vast their audience is. All they wait for is to see him stand with the tricolor over his head. He said that for him, as soon as he takes the Javelin in his hand, his priority is to make his country win and not to bag a medal. 
Neeraj Chopra's career: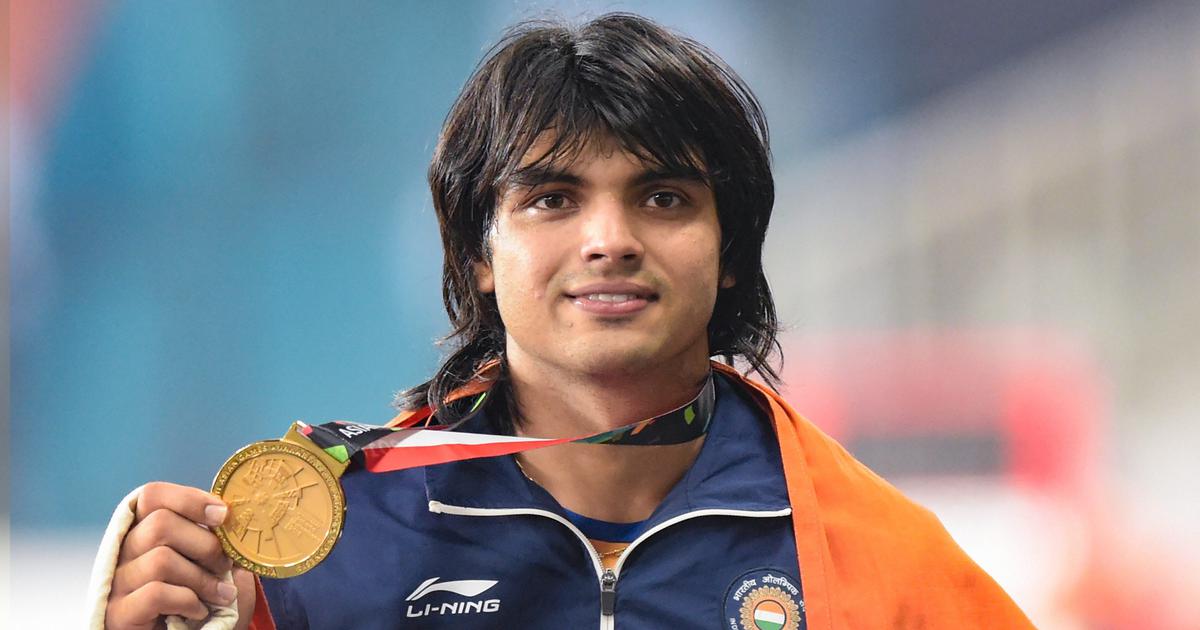 Image Credit: scroll
Neeraj Chopra's performance has been quite impressive on various platforms like the Commonwealth, Asian Games, and now the 2021 Tokyo Olympics have taken over everyone's heartbeats. In 2016, Neeraj Chopra participated in the South Asian Games and accomplished a Javelin throw of 82.23 m, and made a record for his country. 
The same year, he participated in the IAAF World U20 Championships hosted in Bydgoszcz, Poland, and won a gold medal. With his performance, he also made a World junior record. The month of July in 2016 brought a disheartening moment for the country when Chopra wasn't able to qualify for the Summer Olympics 2016 since the qualification cut-off date was fixed 11 July. 
In 2017, he compensated for the failure and participated in the Asian Athletic championships 2017. With his impeccable performance, he bagged a gold medal for India and made his roots proud by accomplishing a throw of 85.23 meters. 
In 2018, he represented India in the Commonwealth Games and won a gold medal by accomplishing a throw of 86.47 meters. Apart from making it to the list of the most popular Indian athletes of all time, Neeraj Chopra also became the first Indian to win a gold medal at Javelin throw, in the Commonwealth Games. His victory was celebrated across the country with cheers and the athlete hiked the hopes of his fans.
In the same year, during the month of May, he represented India in the Doha Diamond League and enhanced his previous performances. Neeraj Chopra accomplished a throw of 87.43 meters and broke the national record, twice. 
Awards and Recognition:
Neeraj has been honored with several awards in the field of sports. Finally, in 2018, the AFI recommended his name for the highest sports award in India. He was presented with the Arjuna Award to recognize his victory at the Gold Coast Commonwealth, where he bagged a gold medal. He is believed to be the only track and field athlete whose name has been put forward by the AFI for such a prestigious award. 
Neeraj Chopra has had a quite impressive list of coaches who helped him to refine his game and grab a deeper knowledge of the science that goes behind it. Most recently, he was being trained by Klaus Bartonietz, who is a German biomechanics expert. Before Klaus Bartonietz, he was coached by some of the renowned coaches like Gary Calvert, Werner Daniels, and Uwe Hohn. 
In 2018, Neeraj participated in the 2018 Asian Games, held in the month of August, and on 27 August, he accomplished a throw of 88.06 m. He won a gold medal for his exceptionally excellent performance and set an Indian national record for the third time, by outperforming himself. 
In 2021, he again outperformed himself for the fourth time in a row. On 5 March, he accomplished a throw of 88.07m and grabbed a World Leading position. The athlete has been the ambassador of outperforming oneself and teaches us to compete with nobody but ourselves and do better each day.
Neeraj Chopra's performance at Olympics 2021:
On 4 August 2021 Neeraj Chopra represented India for the Tokyo Olympics 2021 and accomplished a throw of 86.65m. It was the first time that India ranked first in the qualifying match in the Olympics. Neeraj accomplished this throw in group A in the Javelin throw qualification match. 
Indians have been holding high hopes with their star athlete Neeraj Chopra and everyone's expecting an excellent performance that brings home gold, from the athlete. The 2021 Tokyo Olympics mark the first-ever Olympic participation of the 23 years old Neeraj Chopra. In his very first attempt, he bested every other thrower participating in the event, which has multiplied the hopes of the country and his fans.
DISCLAIMER : This and other personal blog posts are not reviewed, monitored or endorsed by Blogjab. The content is solely the view of the author and Blogjab is not responsible for the authenticity of content of this post in any way. Our curated content which is handpicked by our editorial team may be viewed here.