A woman's wardrobe is incomplete without salwar suits design. The outfit is available in a variety of options regarding fabrics, colors, and designs. Whether it's for casual wear or for any functional salwar suit never disappoints you. This three-piece attire is favorable for every body type and woman of every age. No other attire is as comfortable as a stunning salwar suit. 
Types of Salwar Suit Design     
All these salwar suits are just perfect for casual wear and occasional wear. Listed below are some of the salwar suits that suit every woman. 
1.Anarkali Salwar Kameez
One of the most admired types of salwar kameez is the Anarkali salwar kameez.Everyone is aware of this pattern, it consists of a flared Kurti that is fitted to the waist and then flared till the bottom.
It is usually paired with churidar or leggings, but nowadays for a stylish and unique look, medium-length Kurtis is paired with palazzo pants or cigarette pants.
The printed ones can be worn as casual wear and the heavily embroidered ones can be picked for weddings and other special events.
2. Patiala Salwar Suits Design
The pride of every Punjabi woman is the Patiala salwar suit.
This attractive and pretty outfit includes a loose and baggy salwar that has several pleats giving a nice flare to the bottom, a short or knee-length kurti with side slits and alluring sleeves, and a matching dupatta.
It is the prior choice of a woman for daily wear due to its comfortable characteristics.
A colorful Punjabi salwar suit can give you a chic look. 
3. Churidar Salwar Suit Design
Fitted outfits give the wearer a tall and slim look and for that churidar salwar suits are the best.
An ankle-length salwar having several wrinkles or churis at the ankle paired with a straight kurti makes the best pair.
You can pair any kind of kurti with a churidar as per your choice.
An asymmetrical kurti or a trail kurti paired with this salwar looks splendid.
The outfit gives you a perfect ethnic look and can make you look like a fashionista whenever you wear it. 
4. Palazzo Salwar Suits
For a modern yet adorable look, palazzo salwar kameez is the best.
A printed palazzo salwar suit is the best one to beat the summer.
The flare of the salwar can be determined as per the type of pattern.
It can be of the same width from waist to bottom or its flare may increase gradually below the knee.
An A-line kurti paired with this salwar will look graceful. You can also pair side slit kurtis or flared kurtis with a plain palazzo pant and get a glorifying look. 
5. Pant Style Salwar Suits
Another pattern in the list is a pants-style salwar suit.
Narrow fitted pants paired with a full-sleeved side slit kurti and a beautiful dupatta can make you shimmer the evening.
You can opt for some stylish and different types of kurtis with the pants.
A plain pants goes well with a heavily embroidered straight kurti or a colorful and printed anarkali kurti that gives the wearer a drastic look.
Choose the embroidered one to wear at parties, festivals, and occasions and get a flawless diva look. Read More: Bhagalpuri Sarees That are Classic Forever
6. Long Salwar Suits
The long salwar suits are also very trending nowadays.
They are usually ankle length and are worn with fitted bottoms. It is eligible to provide you with a western and sophisticated look.
The kurti is similar to the anarkali pattern, fitted to the upper body, and flared from the bottom.
It can be paired with pants and churidars. Girls also prefer to wear a printed slit kurti with narrow denim jeans to get a modern and stylish look.   
7.Pakistani Salwar Kameez
A Pakistani salwar suit is a bit different from all the other salwar suits. It usually has a long kameez with sheer details and attractive sleeves.
The kameez is a bit loose with an A-cut pattern with adoring necklines.
You can get some stunning wholesale pakistani salwar suits from online stores in an appropriate size and adoring designs.
It can give the wearer an exemplary look. 
8. Floor Length Salwar Suits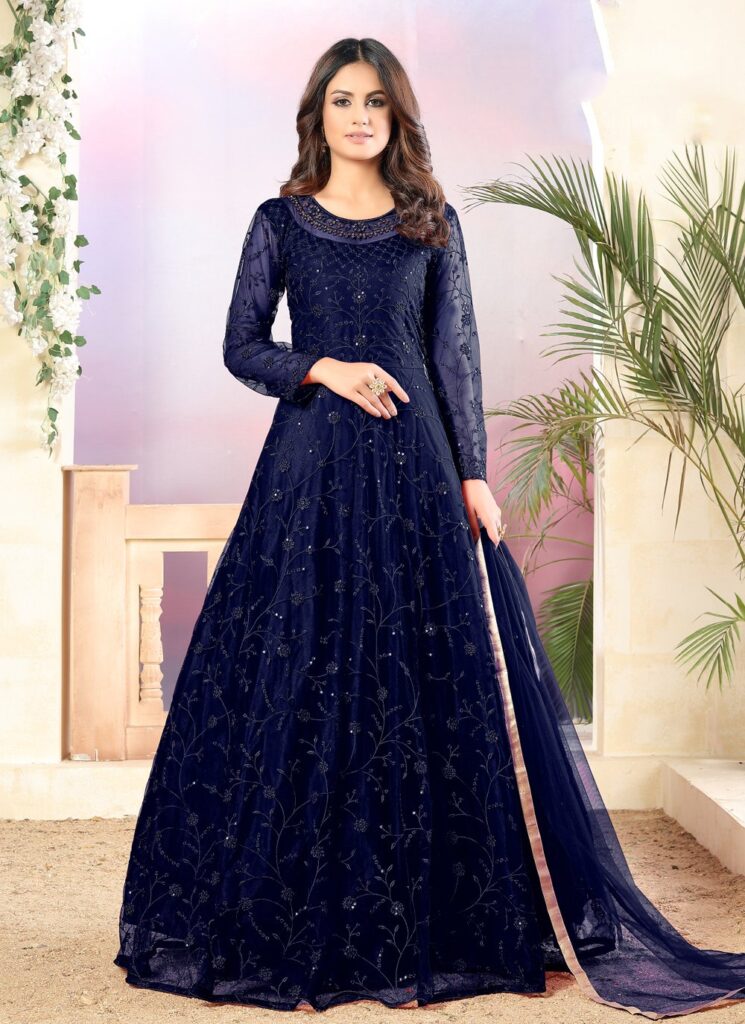 The best pick for any wedding function is a floor-length salwar kameez.
A flared floor length anarkali suit is the most admired pattern by every lady.
It gives a mindblowing look to the wearer and you can be the center of attraction at the event.
A floor-length kameez detailed with some stunning embroidery works and laces looks super adoring.
Just pick the right one and get a delightful look while wearing the outfit.  
9. Slit Salwar Suit
The latest and trending wholesale salwar suits pattern is the beautiful slit salwar suit. It is fitted to the upper body and flared from the bottom making it look like anarkali.
Pairing a matching dupatta with it is what you need to complete the overall look.  
10. Sharara Salwar Suit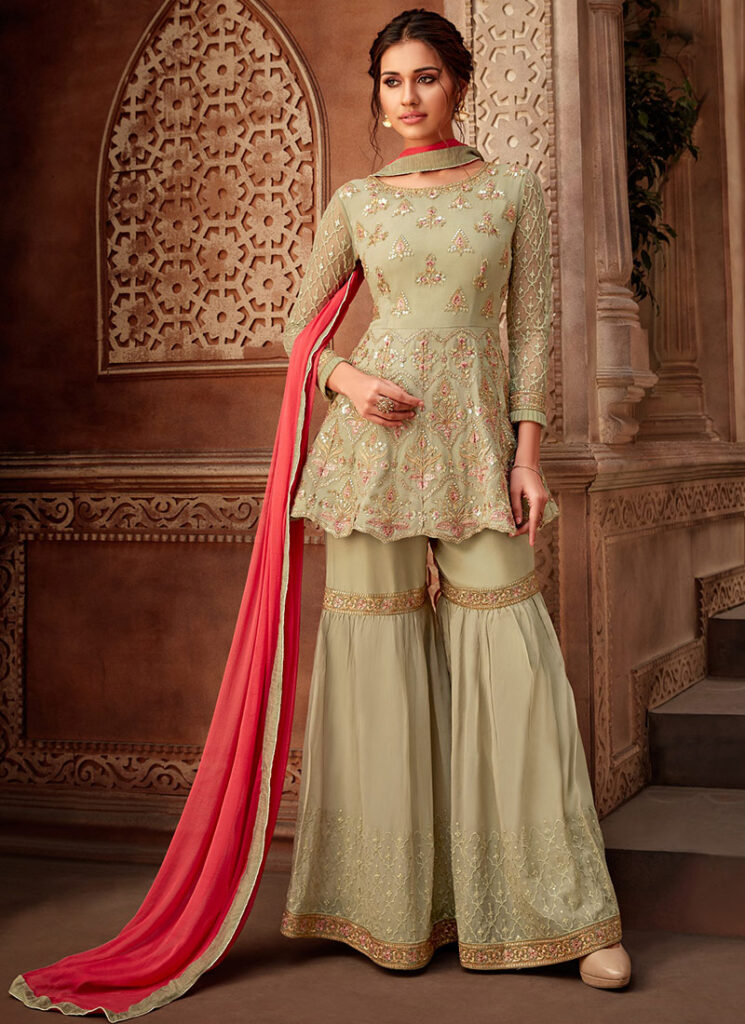 Shararas are the most classy outfit. The detailed flare and unique design makes it the prettiest salwar suit pattern.
It is paired with a short straight kurti and a beautifully embellished dupatta making a sophisticated pair.
The shararas can be plain with a single flare or may have ruffle layers of flare which makes it even more interesting.
A short straight side slit kameez with classic neckline and sleeveless pattern looks the best. 
All these salwar suit patterns are flawless picks that are convenient to wear on wedding functions, evening parties and
special occasions along with some accessories such as jewelry, a pair of matching footwear, proper makeup and an elegant hairstyle completes the entire look. 
So whenever you cherish wearing ethnic or traditional clothing you can pick any one from this and get a flawless look.
Add a clutch or handbag to keep your mobile and documents in it to complete the overall appearance.        
DISCLAIMER : This and other personal blog posts are not reviewed, monitored or endorsed by Blogjab. The content is solely the view of the author and Blogjab is not responsible for the authenticity of content of this post in any way. Our curated content which is handpicked by our editorial team may be viewed here.