Since time immemorial, nature has had a profound impact on artists from every niche. Whether they're writers, singers, painters, or poets- nature has influenced their thought process in one way or the other. Therefore, it now wonders that nature's influence has been seeping into jewellery designs too, and it's for everyone to see. All you have to do is cast a glance at some of the floral influences in jewellery making these days- like the ones mentioned below.
Rock Pendant
They say there is a certain panache in everything that's imperfect. And what could be more imperfect than small rocks and pebbles lying haphazardly along the road. Believe it or not, those ill-shaped objects have a subtle beauty, which is hard to ignore.
As your new neckpiece for the beachside vacation, string together a few rocks of different shapes and sizes to make a stunning pendant out of it. You can pair it with a Bohemian outfit and be the centre of everyone's attention.
Seed Bracelet
Bracelets made out of dried fruit seeds make for excellent natural ornaments. There is no dearth of fruit seeds that look highly appealing when they are vibrantly colored and strung together.
Lotus seeds can be easily strung into exquisite pieces of grace and charm. Try this with one of your casual attire the next time you're headed to a party.
Beehive Jewellery
As scary and ugly as it might look from the outside, donning beehive jewellery could help you become the trendsetter that you have always wanted to be. But you need to get it cleaned and polished with metallic paint to add strength and durability to it. The irregular shape of the beehive is what makes this ornament more pretty and visually appealing.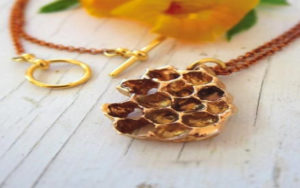 You can also make a pendant out of a beehive by passing a fine chain through any of the gaps present on it. If you want beehive earrings, you will need to pass a hook through the gap.
There is a lot more to jewellery designing than precious metals and gemstones. You can create stunning pieces of ornaments by merely looking around and using what nature has to offer. All you need to get going is a bit of creativity and attention to detail.
DISCLAIMER : This and other personal blog posts are not reviewed, monitored or endorsed by Blogjab. The content is solely the view of the author and Blogjab is not responsible for the authenticity of content of this post in any way. Our curated content which is handpicked by our editorial team may be viewed here.