"What to make for dinner?" is perhaps the toughest question to answer, even if you're not the one cooking it. Dinner has to be light enough that our nearly worked up digestive system can digest it, and should be tasty enough to have us eating it. More often than not, we find ourselves in situations where we have the same limited options to turn to for dinner and none of them are interesting enough.
In this article, we have tried to solve this one task of your day by making a list of 8 of the easiest to make dishes that don't just require a minimum time to be prepared but are healthy and tasty too. 
Green Tea noodles and sweet salmon:
The ingredients required for this are:
1/2 cup (125ml) peanut oil

1 tbs finely chopped ginger

3 long green shallots, thinly sliced

1 lemongrass stalk, finely chopped

1 1/2 tbs honey

2 tbs extra virgin olive oil

80g chili paste made in soybean oil

600g skinless salmon fillet, pin-boned should be preferred

240g dried green tea noodles

1/3 cup lime juice

2 1/2 tsp caster sugar

2 tsp fish sauce

1/2 tsp chili flakes, to add to the dish and for garnishing

Toasted sesame seeds & micro shiso leaves, for garnishing.
Recipe: 
On one side, get your oven preheated at 220°C, and on the other, heat a pan on low flame and add peanut oil to it. Saute ginger, long green shallot, lemongrass with a pinch of salt in the pan. In a bowl, mix honey, chili paste, and olive oil. Take the pieces of salmon, coat them with this paste and place them in the baking tray. Bake it for 12-15 minutes. Now take the noodles in a vessel and boil them as per the instructions given on their packet. Add lime juice, sugar, fish sauce, and chili flakes to the shallot mixture in the pan. Todd the noodles with shallot oil and serve it with the flaked salmon. Garnish the plate using sesame seeds and chili flakes.
Silverbeet fatteh with sumac yogurt and chickpeas:
The ingredients required are:
2 cups (400g) chickpeas, soak them overnight.

3 pieces of Lebanese bread

60ml extra virgin olive oil

1/2 bunch silverbeet

1 cup each mint leaves & flat-leaf parsley leaves

80g toasted pine nuts

200g smoked trout or salmon

280g natural yogurt

1 tbs za'atar, some extra for garnishing

2 garlic cloves, crushed

2 1/2 tsp sumac

lemon

2 tbsp pomegranate molasses

1 lemon (squeeze it)

 60ml extra virgin olive oil
Recipe:
Cook chickpeas on a high flame and slowly lower the flame as they start to boil and cook properly. On one side, preheat your oven at 180°C and coat the Lebanese bread with a mixture of olive oil and za'atar. Bake it for 12-15 minutes. In one bowl, add yogurt, za'atar, garlic, sumac, and lemon and mix them well. All the ingredients for pomegranate garnish should be placed in a separate bowl and mixed well. Cook Silverbeet with olive oil and chargrill on a high flame and toss it with the pomegranate dressing. Place pita along with the sides on the plate and garnish well.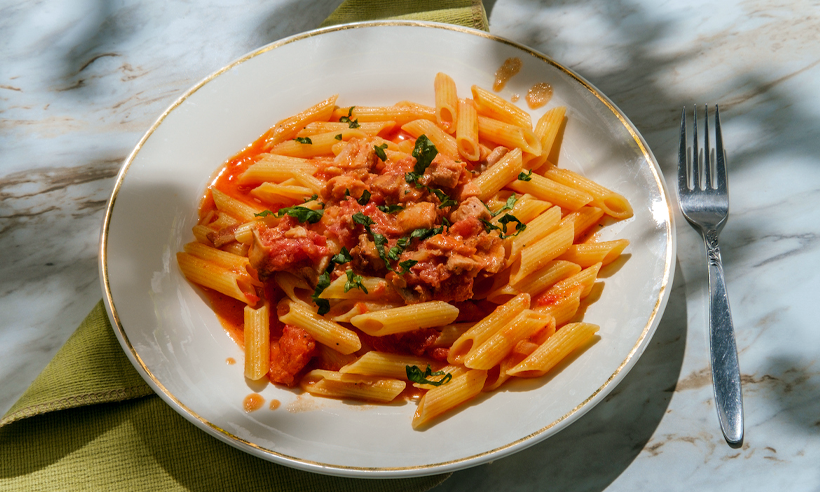 The ingredients required for this are:
60ml extra virgin olive oil

1 finely chopped onion 

4 finely sliced garlic cloves, 

210g tomato paste

125ml vodka

60ml thickened cream

40g finely grated parmesan

400g rigatoni

60ml cooking water reserved
Recipe:
Heat oil in a pan on medium flame and add finely chopped onion and garlic to it. Once they start softening, add tomatoes to it and wait till they start to caramelize. Add vodka to the mix and stir for 5 minutes. Now add parmesan cheese and water to it and cook well. Once the mixture is cooked well, add rigatoni to it and garnish it with your favorite herbs.
The ingredients required for this recipe are:
1 tsp cornflour

1 tsp dark soy sauce

Finely grated zest & 1 spoon of lemon juice

2 tsp coconut or canola oil

150g skinless chicken breast

1 capsicum, sliced finely

1 medium carrot, finely sliced

100g broccoli, chop into small florets

150ml chicken stock 

4 spring onions, cut into cubes
Recipe:
In a bowl, add cornflour, soy sauce, and lemon juice. Mix them well by stirring with a spoon. In a pan, add some olive oil and heat it. Once the oil is heated, saute chicken, capsicum, carrot, and broccoli in it for 3-5 minutes. Chicken must change its color to slightly brown and the vegetables must soften. In the pan, add the soy and lemon mixture and cook until the chicken gets mixed well with the sauce. Now garnish it with lemon zest and serve with rice.
Iceberg with dried oregano dressing and creamy sheep's milk cheese:
The ingredients required for this recipe are:
2 iceberg lettuces, outer leaves removed

1 bunch chives, snipped

1/2 bunch dill, fronds picked

50-70g creamy sheep's milk feta (Bulgarian sheep's milk feta works or even a Danish cow's milk feta would be good too)

30g thinly sliced eschalot

50ml agrodolce-style white wine vinegar (if you can't find that, add 2 tsp honey to regular white wine vinegar)

1 tsp salt

1/ 2 tsp dried oregano

120ml extra-virgin olive oil
Recipe:
We start with preparing the vinaigrette. Take a jar and add eschalot, vinegar, and salt to it. Close the lid and mix it well. Let the mixture macerate for 15-20 minutes and then add olive oil and oregano seasoning to it. Mix again, so that the flavors are mixed well. Chop the iceberg into wedges and place them on your plate. Place lettuce in it and pour the mixture on it. Now sprinkle some salt, grate some cheese on it and serve it hot.
Conclusion:
Deciding what to cook for dinner is tougher than actually cooking the dinner. One needs to have something light for dinner, that can be digested easily and is also delicious enough to get them interested in eating it. Some popular easy-to-be-prepared recipes have been listed and described in this article, to help you plan your dinner well. Some of the recipes are Iceberg with dried oregano dressing and creamy sheep's milk cheese, Lemon chicken, Tomato vodka rigatoni, Silverbeet fatteh with sumac yogurt, and chickpeas, and Green Tea noodles and sweet salmon.
DISCLAIMER : This and other personal blog posts are not reviewed, monitored or endorsed by Blogjab. The content is solely the view of the author and Blogjab is not responsible for the authenticity of content of this post in any way. Our curated content which is handpicked by our editorial team may be viewed here.