India had suffered a lot of atrocities from British rule during the pre-independence era. All thanks to our freedom fighters who fought till death in making India free from their dictatorship. No matter how cruel they were, there is one thing we can thank them for. Any guess to which is that thing I am pointing towards? 
Let me give you a hint. It is the thing that brings joy to any special moment. Even when you are sad, it makes you feel relaxed. It can be used both in happier and sad moments. There are so many songs on it by our talented Indian singers. It is something our idealistic elders and doctors prohibit, but the younger generation finds it hard to ignore it. It is none other than beer. 
This is the one thing we thank the Britishers for introducing in India. There is a famous saying by Benjamin Franklin, that reads 'beer is indeed proof that God loves us and wants us to be happy. Try imagining yourself sitting with your friends and enjoying a high-quality frothy brew on a humid day along with pizza, and an entertaining flick on Amazon Prime or Netflix. 
We bet you would expect that situation in reality. Well, beers are not confined to a special occasion. You can have them whenever you feel like enjoying yourself at your house or any holiday destination. But the craze of drinking beer becomes more exciting when surrounded by close friends or someone close to your heart. 
So today, I have picked up some 7 popular beer brands in India that you can choose and make your moment memorable. Here are they:
Kings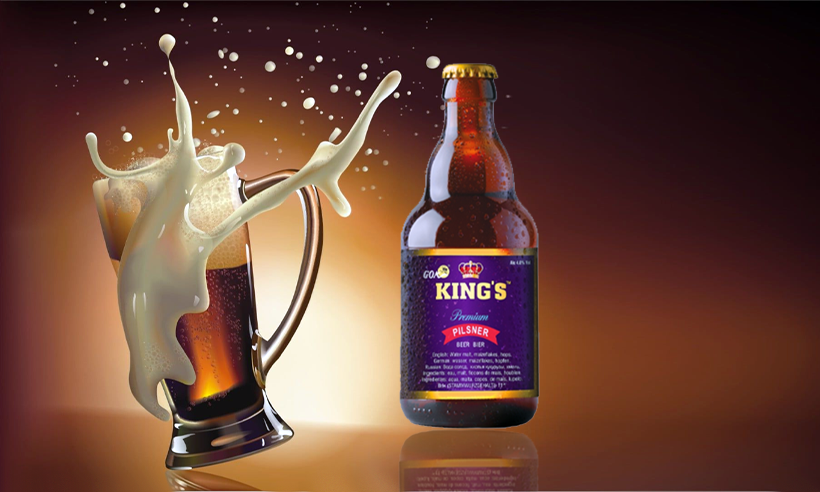 Kings come as the next best beer choice among Indian beer lovers, especially in Goa. It is made with the ingredients of top-quality maize flakes and hops. If you visit beaches in Goa, then you will be getting the taste of Kings. Every sip would take you on a roller coaster ride of memories. Its crispy flavor drags the preference of beer drinkers. It is fermented at minimum temperatures having a crispy flavor. 
Fosters
Fosters is known to be a much-preferred beer drink in Australia. However, it is also preferred by people in India. With the addition of hops at a later stage for preserving freshness, it makes Fosters appeal with a crispy and strong taste. There are only two variants available of this beer brand. If you prefer beer with bitter and strong taste, the Fosters is for you. 
Royal Challenge
Going with the tagline of this beer brand that says 'Brewed Stronger Brewed Better', it indicates that the brewing of Royal Challenge has been for a long time compared to others. Rendered with extra flavor, this beer holds much popularity in states like Andhra Pradesh, Uttar Pradesh, and Odisha. The reason why it is being favored is because of its taste which is mild and crispy with an energetic flavor. The beer is prepared with top-quality malt barley. At last, Royal Challenge appeals to those with superior taste. 
Kingfisher
Kingfisher is one of the top beer brands that are much popular among beer lovers in India. It is called ' King of Good Times. The manufacturing of this beer brand is done by the United Breweries Group by Vijay Mallya. Even though the taste of this beer is bitter, it is very much like in India. Kingfisher complies well with salty peanuts. 
Carlsberg
If beers with light taste are your preference, then Carlsberg is indeed the ideal choice for you. Allow your tongue to enjoy its mild and hoppy bitter taste. The European barley is the add-on advantage that makes you crave Carlberg for its standout taste. If you drink this beer, then you must be familiar with its incorporation with Tuborg in 1970. 
Haywards 5000
Coming on to the next top beer brand in India is Haywards 5000. 10 million units of this beer are known to be sold annually. The sale of this beer has been active since 1983. Haywards 5000 contains high-quality malt and is much famous for its strong taste. 7% is the percentage of alcohol content. Indian customers quench high thirst with Haywards 5000 beer intake. 
Corona
This name does share a similarity with the persisting global pandemic, but let me tell you it has nothing to do with coronavirus for sure. It is one of the popular beers in India. Corona is best for those who don't like beers with a bitter taste. The brewing of this beer brand took place in 1925, Mexico. If you taste Corona, then you will find that it has a smooth, refreshing taste. Go to any bar or a club and ask for this beer in Delhi and it will cost you 280 for 355 ml. 
DISCLAIMER : This and other personal blog posts are not reviewed, monitored or endorsed by Blogjab. The content is solely the view of the author and Blogjab is not responsible for the authenticity of content of this post in any way. Our curated content which is handpicked by our editorial team may be viewed here.