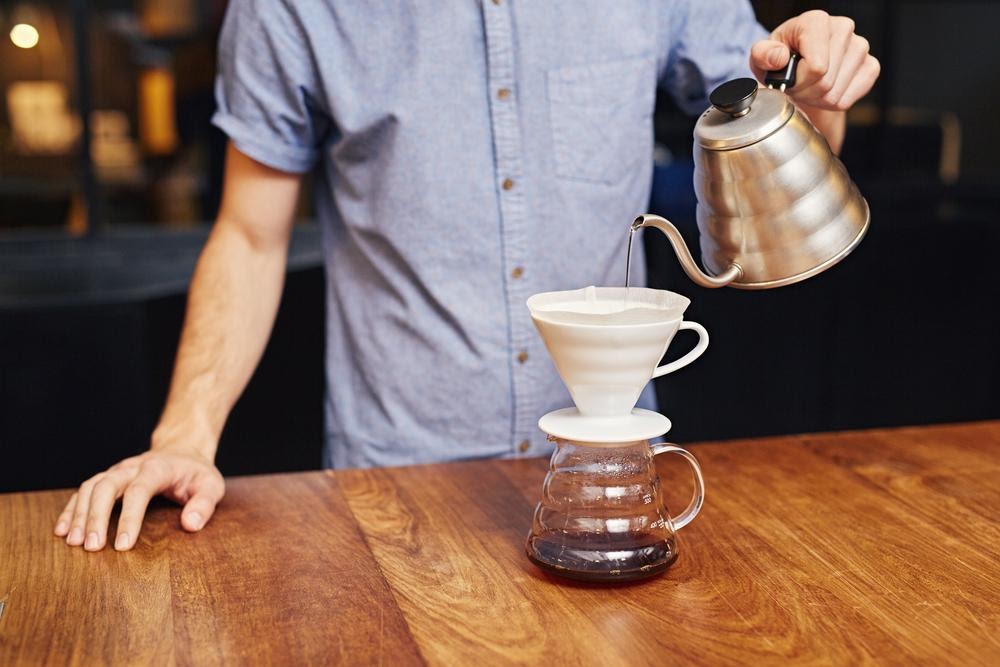 Why is it the most used method in home and hotels? Steps to make a filter coffee, considering filter, grind, dose and temperature.
The filter coffee can be anything from a cloth (sock type), a funnel with a paper filter, to an electric machine.
Filter coffee or drip coffee is what produces the famous Black coffee, which is basically a black coffee without cream on its surface.
It is used in household chains, but also in places with high consumption due to its low cost and speed in large quantities.
You can make a 1 liter jar that is 10 wells quickly and easily. It can also be kept warm for a while in electric filter coffee makers. Be careful not long because the coffee burns. I prefer it fresh.
It allows making the infusion with roasted coffee to lower its cost when they are large quantities.
Invented by Mellita Benz in 1907, who is the founder of the Melitta company that today has everything from paper filters to espresso machines.
Characteristics of Filtered coffee
Unlike an Express coffee machine, in this case we do not use pressure to pass the water through the coffee; simply by gravity it passes little by little towards a container.
Filtered coffee tends to be less acidic but at the same time accentuates more complex flavors, for that reason it is highly appreciated in specialty coffee.
It is also allowed to perceive more flavors and aromas
Filter coffee is consistent, clear and clean, smooth in the mouth and low in acidity.
Steps to make filter coffee
The steps that I am going to detail below are the same for the V60 or Coffee Maker with Paper Filter including Clever Dripper or Kalita Wave.
1.  Grinding:
it is a medium grinding but not much.
The grind for Filter coffee is very similar to Sugar
2.  Paper filter:
 Paper filter, it is recommended to moisten the paper filter with water to eliminate any flavors left by the paper. In the case of the plastic filter that comes in electric coffee makers, you will not be able to do this, but it is usually quite harmless.
Pre-infusion: We start by moistening the beans and wait for 30 seconds.
3.  Amount of coffee:
2 tablespoons per 180 ml of water.
4.  Water:
94 degrees, it should not come to a boil. Pour a splash of water in the center, wait for the coffee to moisten and continue pouring the water in circles, almost like playing. In the filter coffee maker, just turn on.
5.
Once the water has passed, it will be ready.
… To enjoy a good coffee !!!….
Filtering Methods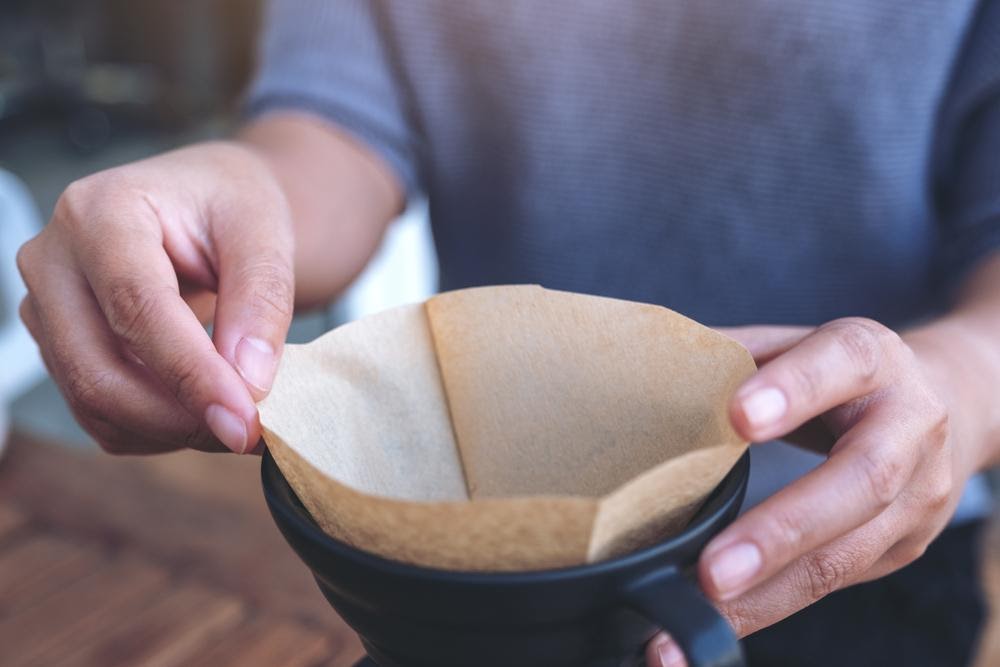 There are several filtering methods, many filtering methods because conceptually it is to pass water through the ground grain that is then filtered. Among the most popular filter coffee methods we have the drip (home electric) and the Paper Filter; but we also have chemex, aeropress, french, vacuum. At the end of the article I make a link to other filtering methods.
Here I am going to detail the most common ones that can be anywhere such as the Drip Coffee Maker or the Melitta Style Paper Filter Coffee or Coffee Maker V60.
V60 coffee machine
For example Hario is a brand of excellent quality with many variety of V60 coffee makers, in different materials, Glass, acrylic, copper and ceramic.
Beautiful and of great quality.
Kalita wave
Another excellent alternative to make filter coffee. In this case the base is flat, the water being evenly distributed before falling.
Clever Dripper
Conceptually it is similar to another drip system, but what it allows you is with a cap valve so that the grains are submerged and then released.
Electric drip coffee maker
No introduction needed, who doesn't have an electric drip coffee maker at home?
There are infinite prices and qualities, from economic family to gastronomic.
But the most widespread methods in homes are the V60 type coffee maker and the drip coffee maker.
Originally, the filter coffee maker created by Melitta was one of the methods that our grandfather used the most. At that time the torrado was used a lot and with a kettle the water.
Over time, due to its practicality, electric drip machines gained space, because it was simple, press a button and wait. The former used a paper filter, eventually all drip coffee makers have recyclable filters.
Filter Coffee Maker or Electric Drip Coffee Maker
The principle is the same, although when you do it manually, the quality of the coffee is better used, although the simplicity won out over the quality.
Why am I saying this?
1st changing the paper filter constantly ensures that there are no coffee residues, with bitter flavors. Anyway you could reusable filter and put a paper one. Although I think nobody does.
2nd When an artisan process is done, you control everything. In an electric drip coffee maker you control the degree of grind and proportions but you do not control the temperature.
3rd In a manual method you can pre-infuse.
4th The pour in circles to take advantage of each of the grains evenly.
Hand in hand with specialty coffee we have returned to the origins, filtered coffee.
Permanent Filter Vs Paper Filter
If the paper is not of good quality, it can leave particles deteriorating the quality of the coffee, but if a quality paper is used it is better than the reusable filter because there are no residues from the previous coffee.
Holes on permanent filter coffee makers typically have larger holes for easy cleaning.
DISCLAIMER : This and other personal blog posts are not reviewed, monitored or endorsed by Blogjab. The content is solely the view of the author and Blogjab is not responsible for the authenticity of content of this post in any way. Our curated content which is handpicked by our editorial team may be viewed here.