To carry out an industrial cleaning, it is necessary to have resistant materials whose effects are long-lasting. This will ensure proper hygiene whether it is a school, an office, or very large places that require long and heavy work. For this reason, it is very important to have cleaning materials and equipment, such as the one we will tell you about in this post.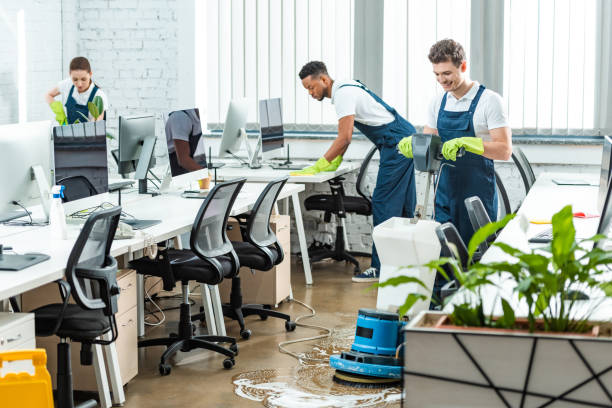 What is meant by industrial cleaning
Industrial  cleaning  is all the activities aimed at the hygienic maintenance of environments with a high level of dirt that require an adequate quality standard of hygiene, such as:
Offices and companies

Industrial areas

Establishments
Unlike residential cleaning, industrial cleaning is more complex and requires different equipment, machinery, and therefore also personnel trained and trained in the various operations.
What is an industrial cleaning product?
By industrial cleaning products we mean those chemicals created specifically to disinfect and clean different spaces. Some of these products are so strong that they require the use of a special mask, gloves, and goggles, as they can release toxic gases that can irritate mucous membranes.
Industrial cleaning products, such as disinfectants and sanitizers, are able to clean and eliminate bacteria and microorganisms from surfaces, but if not used correctly they can be dangerous. Every insider is aware that before using them it will be essential to find out about the advice for use, to avoid any type of accident.
In addition to strong chemicals, there are also high-quality eco-friendly products on the market.
Among the machinery and tools that are used to perform a good cleaning of the office, we have:
Rags and Antistatic Wipes
Rags and other special clothes are essential cleaning tools that should never be missing when cleaning industrial buildings such as offices. With this tool, it is possible to collect remains of coffee that have been spilled, remove dust from desks or clean any food residues that have fallen on any surface.
The most recommended clothes by experts are microfiber ones because they have incredible absorption capacity and are soft when it comes to cleaning delicate surfaces.
In addition to ordinary cleaning, sometimes it may also be necessary to perform extraordinary cleaning of floors and surfaces. For this reason, it is essential to rely on a company that has machines and products available to suit every need.
– Dustpan, Mop, and Broom
Other industrial cleaning products that shouldn't be missing anywhere are a dustpan, brush, mop and wringer. The use of all these products will allow the office to always be flawless, in addition, the material of their manufacture should be durable and of high quality, so that they can last a long time.
Among the most durable we can highlight those made of aluminum or rigid plastic.
The bristles of the brooms you choose should be stiff if they are to be used on polished ceramic or concrete. In case they are used on materials such as wood, they must be softer, to avoid scratches.
-Vacuum
A piece of equipment that cannot be missing to clean an office or other space is the vacuum cleaner. With it we can remove dust and lint, as well as small waste that hides behind the desks.
The vacuum cleaner is perfect for removing dust from carpets, being able to effortlessly clean those places that are difficult to access, and guaranteeing extreme cleanliness in all workplaces.
– Floor cleaner
When it comes to industrial cleaning products, the floor cleaner cannot be missing. This is an essential product, which is used to remove dirt and germs accumulated on the floor. There are floor cleaners for different types of surfaces, which have a neutral pH and which give magnificent results on any type of surface without damaging it.
– Glass cleaner
All offices have glass windows or doors. These must always be kept clean to give a good image to all who visit the place. To make cleaning easier, there are highly effective industrial cleaning materials. These are often necessary in order to keep the crystals flawless and be able to clean them quickly and easily.
-Bathroom cleaning products
Bathrooms in an office and other busy places are a big source of bacteria and viruses. Therefore, it is important to keep them in optimal hygienic conditions, ensuring the presence of paper towels, toilet paper, soap, and hydroalcoholic gel.
Toilet cleaning is more effective with bleach
Which is one of the most widely used and effective industrial cleaning products for eliminating bacteria, germs, and viruses. With a single product, you can disinfect the toilet, sink, and floors. In some cases, ammonia can be very effective to disinfect, but it can have a much stronger odor.
– Industrial degreasers
The most powerful cleaning products for killing grease are degreasers. In industrial versions, these are also important to remove excess grease from the floor.
– Chemical products for sanitation
In office cleaning, the use of materials that are capable of eliminating bacteria and microorganisms. That can harm health is vital and mandatory. For this reason, all professional companies must also have virucidal products and industrial disinfectants.
Experts in the industrial cleaning of offices and companies
We know that cleaning industrial buildings is an extremely important activity. For people to find themselves in places that allow them to work in suitable hygienic conditions. Our company operates with professional and qualified personnel, using techniques suitable for each place and at competitive prices.
Keeping spaces clean is essential for both workers and customers. That's why we have all the industrial cleaning materials needed to thoroughly clean any space.
Don't wait any longer and leave your office cleaning in the hands of experts. Contact us and request your free quote now!
DISCLAIMER : This and other personal blog posts are not reviewed, monitored or endorsed by Blogjab. The content is solely the view of the author and Blogjab is not responsible for the authenticity of content of this post in any way. Our curated content which is handpicked by our editorial team may be viewed here.